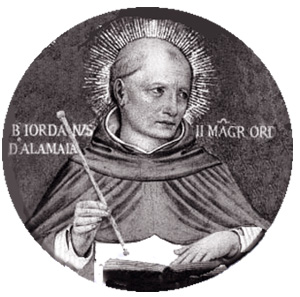 Ecclesiasticus 31:8-11 / Luke 12:35-40
It can be a tiring and wearisome thing to be always on watch. There is a reason, after all, that armed guards of palaces and city halls, museums and supermarkets, maintain something of a grim air of resignation. Apart from warning off a potential evildoer, those on watch just cannot afford to be affable. Keeping an eye out for what is coming, for any sign however small that something deserves our attention, seems to us generally incompatible with mirth. For us, to be enjoying ourselves generally means also
not
having to keep watch,
not
needing to mind our P's and Q's.
This is why, at first glance, one might see why enemies of the faith have accused Christianity as being the foe of joy. After all, Jesus himself describes, or rather commands, Christian discipleship to resemble and unending watch:
Let your loins be girt about and your lamps burning in your hands and you yourselves like men waiting for their master's return from the wedding
. Indeed, it is a watch we are advised may take longer than we think, and for that very reason, we can never allow our attentiveness to slacken. The bridegroom may well come not right away, but perhaps even in the
second watch
, or possibly even the
third watch
of the night, when we wonder whether the sun will dawn on a new day without his return, and without a moment's rest on our part.
How very different, then, such watchfulness appears in those whom God loves, how very far from grim resignation and anxious fatigue. In this, we have no better witness than Blessed Jordan of Saxony, successor to St Dominic as Master of the Order of Preachers, and one of the most tireless promoters of the Order's membership and mission in its earliest days. It is true, of course, that Jordan kept special vigils of prayer over and above his obligations to the Divine Office. Indeed, he is said to have prayed on his knees, upright with his hands clasped, for over two hours (the time it would take to walk eight miles, it was said), once after Compline and again after Matins, crying bitter tears all the while.
Yet, it was this same man blessed by God who was noted, not for a maudlin temperament, but for his gentleness and joy. It is said that, while on his many travels, when not in holy conversation with his fellow friars, Jordan would walk ahead of them a stone's throw, singing all the while one of his favorite tunes, the
Salve Regina
or the
Jesu nostra redemptio
. So filled with joy was he in these tuneful meditations, that he would wander off, and his brothers would have to go searching to find where he had finally gone. Needless to say, Jordan and his fellow travellers would not infrequently get lost, but rather than lose his patience, or seek to blame another, Jordan is reported to have said, especially to those who were upset or worried by the delay:
Never mind, brothers, it is all part of the way to heaven
.
What Jordan reminds us is that watchfulness for God is not just like the watchfulness of a security guard minding the door to a bank vault. Ours is not the task of keeping someone out, but of being ready to let someone in. To do that, we need not so much to have the house put in order and put on hold, as one might worry over what to do with the entrée when the guest of honor is late for a dinner party. Rather, our task is to become the kind of people who will find the coming of the bridegroom a reason for unmitigated joy. To be watchful for God, in other words, means to be just the sort of person who weeps over his own sins and the sins of the world, who weeps with gladsome anticipation for the return of our beloved bridegroom Jesus Christ, and who sings with happy distraction along the way.
It is in our tears, song, and words of gentleness to our brothers and sisters that Christ will find the most welcome home, will find just the place he would desire to
recline at table
.