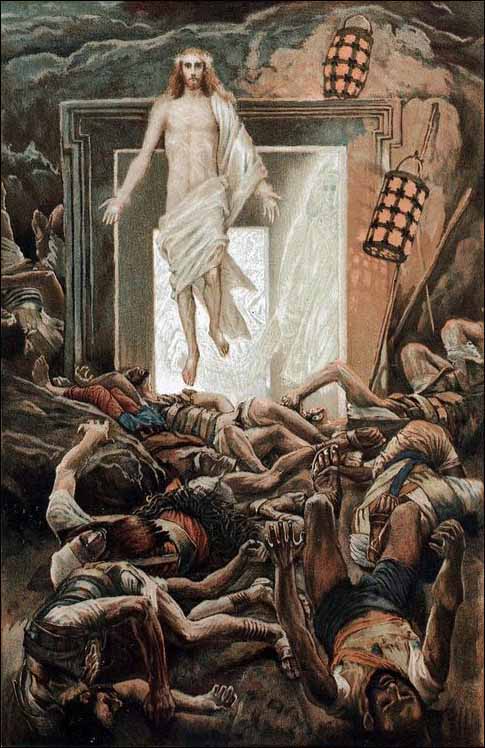 1 Corinthians 5:7-8 / Mark 16:1-7
The trumpets blare, the bells have peeled from the heights of the church, and the music of the organ has shaken it to its foundations. We sing out with full voice, and repeat again and again as though we cannot say it often enough —
Alleluia! Christ our Passover is sacrificed! Alleluia! This is the day which the Lord has made; let us rejoice and be glad therein! Alleluia! Christos anesti, alithos anesti! Alleluia! Alleluia! Death and life
, we proclaim
, fought bitterly
, and
the Prince of life, who died, reigns glorified!
Before and unbelieving world, we dare to speak the unspeakable, to believe the unbelievable. Death and Hell, Spite and Sin have done their worst, but the victory of Life and Love is complete and irrevocable. Death has forever lost its sting. From now on, it is Life who has the last word. Jesus Christ is risen from the dead!
We say it, but can we really mean it? Do we dare to believe? Do we dare risk believing it is
true
?
When Mary Magdalene, Mary the mother of James, and Salome went out that cold morning,
early on the first day of the week ... when the sun had just risen
, their eyes red and bleary from the hour and excess of tears, what did they expect to see? Certainly not what their eyes beheld! The great stone, rolled away. The tomb, empty. And upon the stone at the entrance of that empty tomb, a figure at once glorious and terrifying, clothed in dazzling white, a figure not of this world nor among the sons of Adam.
What had drawn them to the tomb at the hour was love, of course, but also the cold hard logic of the world — the body needed to be anointed, lest his decay fill the tomb with the stench of death. In a way, it is easy for us to yield to the logic of the world as well.
Christ indeed from death is risen
we sing, and then we read of piracy on the high seas, or another murder in Iraq or only blocks away from where we live. In our prayer we proclaim that
on this day
the Only-begotten Son
overcame death and opened for us the gates of everlasting life
, but are we wise to leave our door unlocked at night? Can we walk down lonely streets whose old warehouses we only hope are unoccupied without a sense of relief to have left them far behind?
Even so, we ring the bells, we let the trumpets blast, we sing our joyful
Alleluia
! We have seen the empty tomb, we have seen the angelic witness, and we dare to believe the unbelievable. For we have worked at jobs whose wages never seem enough to meet our growing expenses, we have known the death of loved ones with whom we never spent enough time, we have broken faith with those who rely on our trust with envious gossip and a lying word.
But, day after day, week after week, year after year, we return. Perhaps only since yesterday, or perhaps after many years' absence, we return. After a long life of service, or newly washed with water and anointed with chrism, we return. We return to the empty tomb. We see, and believe.
For we have looked beyond the stony logic of the grave, beyond the deadly certainties of pain and loss, fear and sorrow, and without blinking, without denying their power, we have exchanged the cold hard cash of the wisdom of this world to plant the few seeds of our faith, and climbing the Vine which grows up from the deepest place of our lives, reaching far beyond our sight into the heavens, we have found that there are
indeed
castles among the clouds. We have been enchanted by the deeper magic from before the dawn of time and proclaim to the world without shame, without embarrassment, that death itself can work backwards and spring forth in new life.
Brothers and sisters,
JESUS CHRIST IS RISEN!
This is our faith. This is the Easter faith of the Church, and we are proud to profess it! It is amazing, it is outlandish, it is incredible, and it is altogether true! We are not called upon to work it out or to adapt it, to fret over how well we have prepared for it, where we may have tripped over it or lost our fervor for it. We have only to be glad and rejoice — for this is indeed the day the Lord has made!
Christ our Passover is sacrificed! Alleluia! Let us feast with the unleavened bread of sincerity and truth! Alleluia! Alleluia!

Christ is risen! He is truly risen! Alleluia!